Design a Hand Lettered Font on Your iPad
So many people have asked me how I create my fonts for my classes and Creative Market shop, so I decided to finally create a tutorial to show the full process!
In this class you'll learn all the steps to design a font on your iPad in Procreate.  I create fonts on my iPad and sell them on Creative Market to make a little extra passive income, and I wanted to show you my whole process from start to finish so you can start creating fonts for personal or commercial use.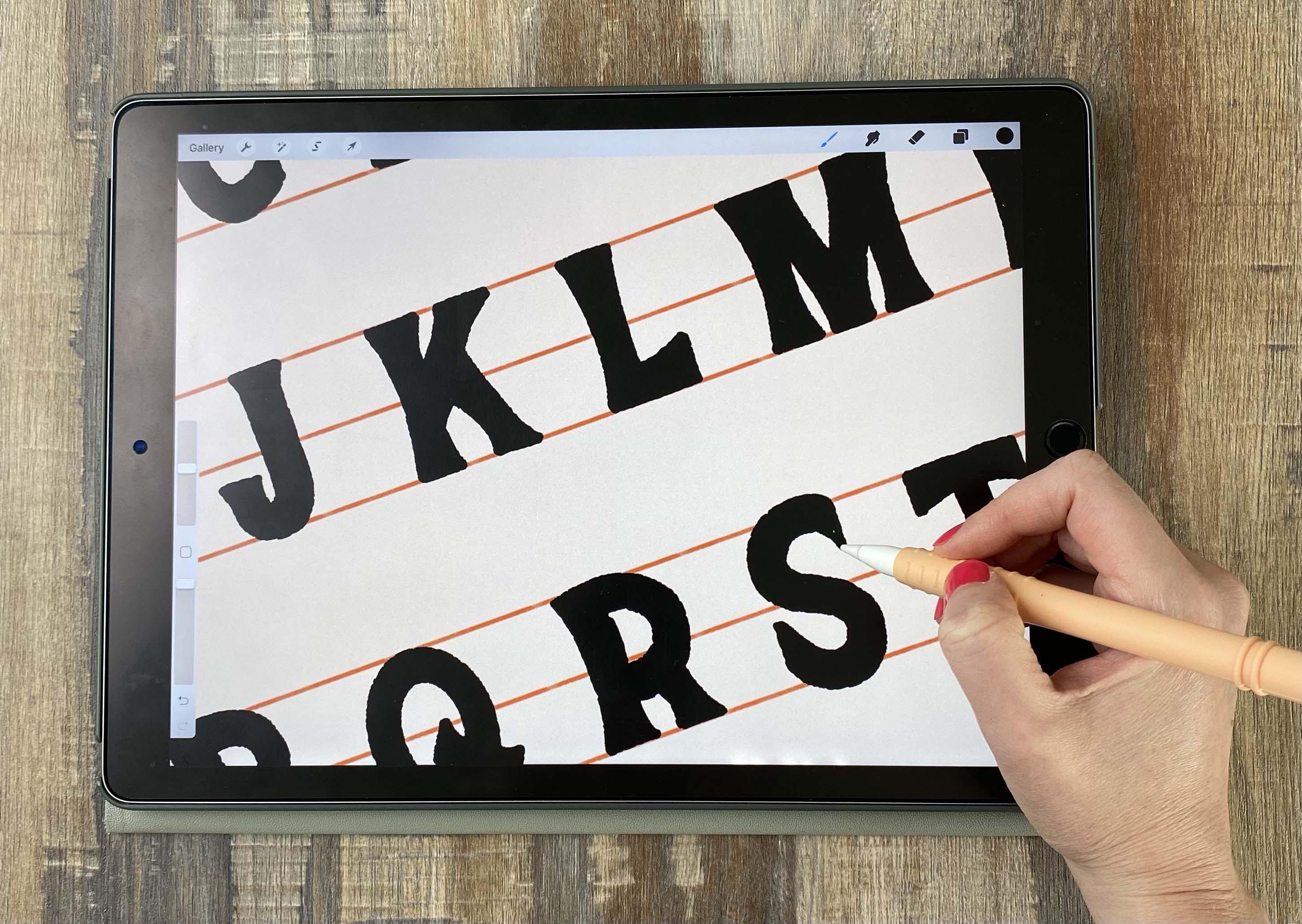 First we'll plan our font using vintage lettering inspiration and then test out some letter styles before diving in and designing the whole letter set. I'll show you some of the fonts I've made as an example, so you can use my fonts as inspiration to create your own or you could come up with your whole own font style.
Next we'll draw each letter by hand in Procreate so you can create a font with a handmade feel and even include texture, outlines, and other decorative elements. Then we'll piece the font together and tweak the spacing and sizing of each letter combination.
Last I'll show you how I list the font for sale in my Creative Market shop so you can decide if selling fonts is right for you. I'll show you my process for creating images to display your font so you can market your font to the target audience that matches your style.
The amazing thing about this process is you can create beautiful fonts with a handmade feel all on your iPad without needing any other equipment. Hand lettering is so popular right now, but a lot of people just don't have time to learn how to hand letter, which is why creating fonts with a handmade feel is such a marketable way to use your love of lettering to share your work with the world and make a little extra income!

All you need to take this class is your iPad and a stylus.  We'll be using the apps Procreate and iFont Maker to build the fonts, so those are the only paid apps you'll need for this process.  I'll be using the Apple Pencil, but you could use any stylus, or even your finger.  Let's get started!
Not ready to watch the class yet? Hover on the image below to pin it for later:
Combining Lettering and Illustration in Procreate
In this class you'll learn all the steps for combining lettering and illustration to create compositions that both tell a story and are visually interesting!
Illustrating with Layered Texture & Color
Learn how to use layered texture and color to add depth and visual interest to your illustrations.  We'll look at how to create overall textures, how to use texture to create highlights and shading, and how to use single and multi colored texture to bring out warm and cool tones in your illustrations.
Design a Pattern Collection on Your iPad
Learn how to design a pattern collection on your iPad from start to finish.  I'll show you options for making your repeat elements in both Procreate and Affinity designer, so you can choose which option works best for you!
Learn how to create 70s style hand lettering and decoration from start to finish.  We'll cover everything you need to know to add the kind of bold color, drastic variation, and playful decorations that were so popular in the 70s and are now popping up all over in the design world on stationary, clothing, home decor.
Limited Color Palette Illustration in Procreate
Learn how to create limited color illustrations and palettes on your iPad in Procreate.  We'll cover every step of the process from building new palettes to creating illustrations that are ideal for limited palettes.
Ink Illustration Techniques in Procreate
In this class, you'll learn three different ways to use ink lines and dots to add shadow, highlights, and depth to your work.  We'll look at tons of tips and tricks for hatching, crosshatching, and stippling, and talk about how to add bold color to your linework to add variation and contrast that makes your work stand out online and in print.
---