Adding a plant here and there in your drawings helps give a flat image variation and movement, and adds a pop of natural color into an otherwise lifeless drawing!
In my new class, you'll learn how to create plant illustrations in Procreate so you can start incorporating a wide range of plant forms into your work!
When you take the class I'll share with you a workbook with 6 step by step plant drawing tutorials, so you can easily start incorporating these plants into your illustrations.  I'll also share with you some color palettes and 6 of my illustration brushes for Procreate, plus a set of 6 pot shape stamps that you can use to add some variety to your drawings.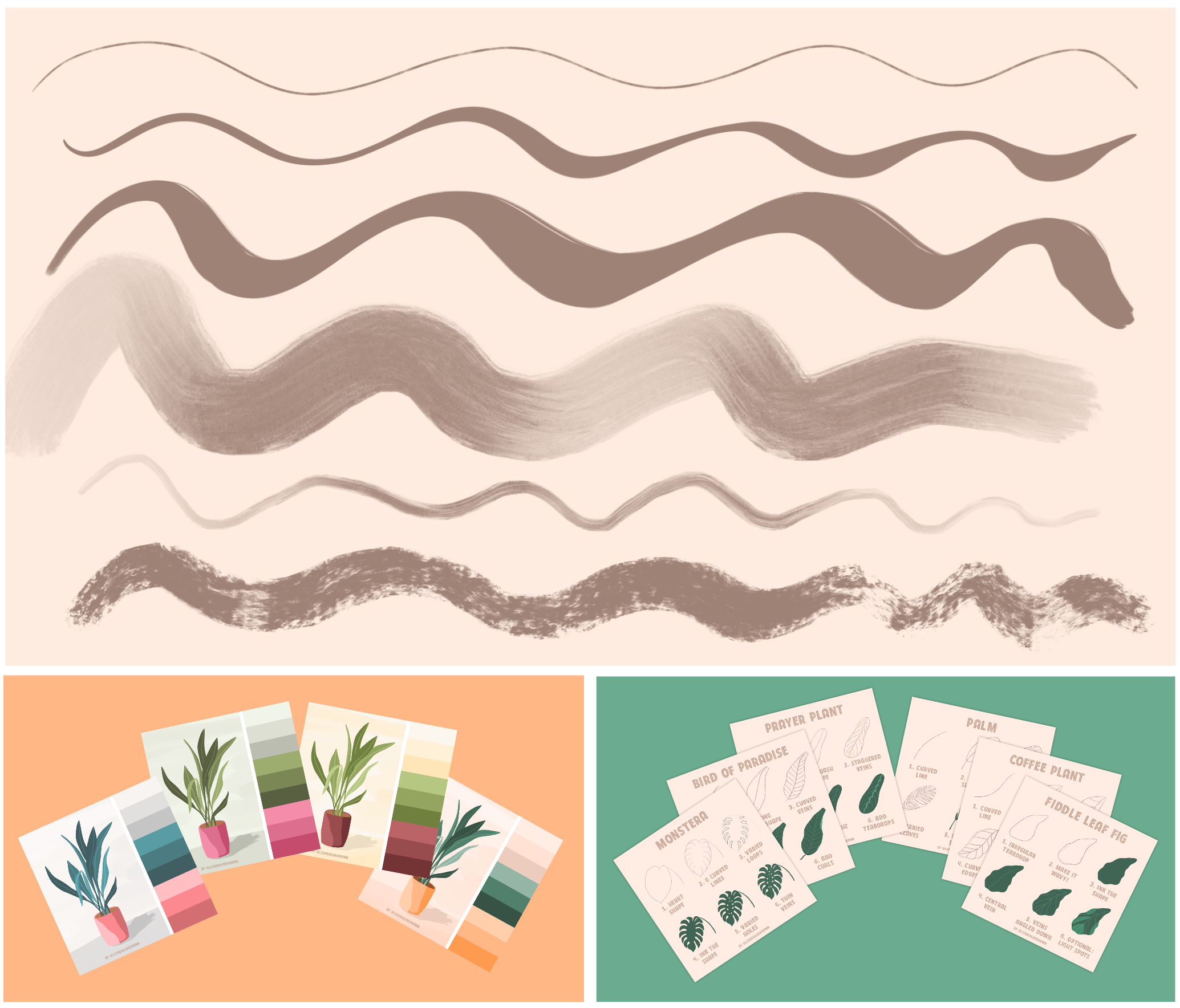 First we'll draw a single plant and talk about how to make plant leaves curl and twist, so we aren't just depicting flat leaves facing the viewer.  We'll also look at how to add a simple wind animation effect to your plant illustrations to help your drawings capture your viewers interest with movement.
Next we'll draw a menagerie of overlapping plants to create an illustration with movement and depth.  We'll talk about how to pair plants that contrast with each other and cover some tricks for working with drawings with lots of layered elements.
Last we'll create a simple illustration of a room and talk about how to incorporate plants into the scene to add variation and depth to your drawings.  Throughout all of the projects,  we'll talk about rules for composition that will help you create balanced, cohesive drawings.
What I love about incorporating plants into my illustrations is that it's a quick and easy way to bring some bold color and movement into an otherwise boring scene.  Whether you're creating work just for fun or to sell or license your drawings, adding plants to compositions will help you add variation, movement, and bold color to your work.

Drawing plants is also one of my go-to practices when I feel a creative block coming on.  Because leaves can be almost any shape at all, plants are a great confidence booster for your creative mind when you are having trouble getting into the mood to draw!
Check out the class here to get started. Not ready to watch it right now? Hover on the image below to pin it for later.